Ag briefs: Convicted dairy princess up for parole
Wisconsin State Farmer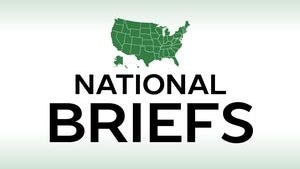 WAUSAU, WI
Convicted dairy princess up for parole hearing
A former dairy princess convicted of killing her ex-boyfriend's fiancee 27 years ago in a case featured in a made-for-TV movie is up for a parole hearing.
Lori Esker, now 48, was convicted in 1990 of first-degree intentional homicide in the death of Lisa Cihaski. The 21-year-old woman was strangled with a belt by Esker in a car in a Rib Mountain motel parking lot. Cihaski was engaged to Esker's former boyfriend. Witnesses testified the Marathon County dairy princess was obsessive and still wanted a relationship with the man.
WSAW-TV reports Esker is scheduled for a parole hearing this week. A parole decision is expected to take several weeks. The case was featured in the TV movie "Beauty's Revenge" which aired on NBC and Lifetime.
LYNDON, STATION
Barn engulfed in flames
Firefighters were called to a barn fire in the town of Lyndon just after noon on Saturday, Dec. 2.
Dispatchers received several 911 calls reporting the barn fire on County Highway F in south-central Sheboygan County.
Responding officers said a portion of the barn was fully engulfed, but that it was empty and no injuries were reported. The fire was a result of a rubbish pile being burnt nearby, according to the Sheboygan County Sheriff's office.
The following department responded to the fire: Sheboygan County Sheriff's Office, Cascade Police Department, Cascade First Responders, Orange Cross Ambulance and Plymouth Fire Ambulance, Sheboygan County Fire Investigation Unit, and fire departments from Waldo, Cascade, Plymouth, Ada Oostburg, Town of Sheboygan Falls, Glenbeulah, Adell, Greenbush, Cedar Grove, Random Lake, Silver Creek, Kohler, Franklin, Johnsonville, and Beechwood. 
MADISON, WI
Gov. Walker requests ag disaster aid for farms
Governor Scott Walker requested U.S. Secretary of Agriculture Sonny Perdue to issue a USDA Secretarial Disaster Designation for Rusk and Sawyer counties, where farmers suffered crop losses due to flooding earlier this year.
In a letter dated Nov. 29, the Governor noted the two counties experienced excessive rainfall and flooding beginning in early spring and continuing through September. Many fields remained under water or had over-saturated soil for extended times, leading to crop losses of 30 percent or more in corn, soybean, oat and wheat fields.
Agricultural disaster declarations may make farmers eligible for low-interest loans and other forms of aid that Congress makes available. The declarations also may extend to adjacent counties.
Perry, IA
4 injured in accident at Iowa meat plant
Officials say four workers have been injured in an accident at a Tyson Fresh Meats plant in the central Iowa town of Perry.
The accident occurred around 11:40 a.m. Monday Two of the workers were flown to the burn center at the University of Iowa Hospitals and Clinics in Iowa City. The two other workers were treated at the plant. None of their names have been released.
Chief Deputy Adam Infant of the Dallas County Sheriff's Office says the four appeared to have been burned by steam. He says there was no fire at the plant.
GREENVILLE, MI
Foremost Farms plans Michigan plant to process milk solids 
A farmer-owned milk cooperative has announced plans to build a new plant to process milk solids in western Michigan. 
Baraboo, Wis.-based Foremost Farms USA announced it has purchased a 96-acre site in an industrial park in Greenville and hopes to begin production there in about a year if it wins approval of local and state incentives, including a wastewater treatment solution in the city. 
The plant would receive up to 6 million pounds of raw milk per day and initially process milk solids for internal use and sale to others. 
The (Greenville) Daily News reports the company did not provide the estimated cost of the plant or the number of jobs it might create. 
Foremost Farms USA has about 1,400 dairy farmer members and annual sales of $1.5 billion. 
HUTCHINSON, KS
CHS closes plants in Kansas, Iowa and Minnesota
A soy processing plant in Hutchinson has closed, costing 77 people their jobs.
CHS Inc. announced Friday that the Hutchinson plant was one of three it was closing as it moves out of soybean protein production.
The others were in Creston, Iowa, and its Innovation and Technology Center at Eagan, Minnesota. Spokeswoman Annette Degnan says a total of 144 employees at the three locations will be affected.
The company reported net income of $127.9 million for the fiscal year ended Aug. 31, compared to net income of $424.2 million for fiscal 2016.
TUPELO, MS
Christmas tree shortages reported in Mississippi
Christmas tree shortages have been reported in Mississippi.
Mike Marolt, owner of Pine Mountain Tree Farm in Walnut, tells the Northeast Mississippi Daily Journal that inclement weather has contributed to the shortage.
Mississippi State University Extension Service forestry specialist Stephen Dicke says Mississippi growers will likely sell more than 30,000 trees, an increase from last year, but producers are unlikely to meet demands as most suppliers sell out by the second week of December.
Mid-South Nursery & Garden Center owner Bob Marion says this year he paid nearly 50 percent more for trees he sells.
Dicke also says fall wildfires destroyed many Fir trees in Oregon, a state that's probably the country's biggest live Christmas tree producer.