Wisconsin's 'official' wolf population closing in on 1,000 animals
Dan Hansen
Correspondent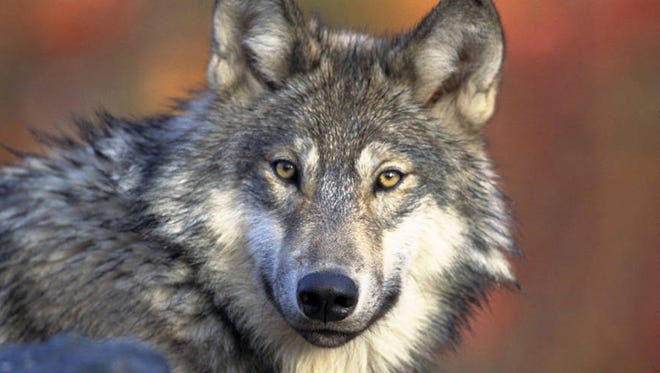 MADISON – The gray wolf (Canis lupus), also known at the timber wolf, has been a source of controversy and conflict from the time settlers first brought domestic animals to Wisconsin. 
And that conflict has exacerbated in recent years as the state's wolf population continues to climb.
Monitoring efforts, conducted from Dec. 2016 through mid-April 2017 primarily by volunteers under the supervision of the Wisconsin Department of Natural Resources, detected an overwinter minimum wolf count of 925-956 and 232 packs.
"This represents a 6.8 percent increase from the 2015-16 minimum wolf count (866-897 and 222 packs)," reported David MacFarland, DNR large carnivore specialist. "The current minimum count represents the third year of growth and a record high for Wisconsin."
Wolf count efforts are conducted in winter when the population reaches its annual low point. MacFarland acknowledged that wolf pups born in spring will likely cause the state's wolf population to more than double to possibly 2,000 animals.
"This is followed by reductions resulting from pup and adult mortalities," he said.
Wolves are generally secretive and occupy very large home ranges that may cover from 20 to 80 square miles, which makes it difficult to monitor them by direct observation.
"However, we can still estimate the abundance and distribution of carnivores by observing the number and location of their tracks," MacFarland said.
Protection, monitoring 
Wolves received protection in Wisconsin in 1957, when the animals were thought to have been eliminated from the state. 
A recovery plan was formulated to ensure the survival of the gray wolf population in Minnesota and to establish a population of 100 or more wolves in Wisconsin/Michigan for a minimum of five consecutive years. 
Wisconsin's wolf population has been at or above that level since the late 1970s. The Wisconsin/Michigan wolf population has been above 100 since the winter of 1993-1994, achieving the goal of the recovery plan.
Wolves came under the protection of the Federal Endangered Species Act (ESA) in 1974. 
In 1979, the DNR began conducting formal wolf track surveys as part of the state wolf monitoring program. Since 1995, the DNR has used volunteers to conduct snow track surveys for wolves and other carnivores.
"Volunteer trackers are a critical component of Wisconsin's wolf monitoring program, and department staff relies upon their efforts to ensure we have high quality data," said MacFarland. 
Each trained tracker is assigned a survey block of about 200 square miles. The survey block is designated by a system of roads or natural boundaries such as lakes and rivers.
New packs
The state is divided into six wolf management units (WMUs) and 167 survey blocks. Zone 1 (in Northwest Wisconsin) zone 2 (in the northeast), and zone 5 (in the Central Forest Region) contain the state's prime wolf habitat, while units three and four feature transitional habitat.
Ten new packs have been detected in each of the past two years, with packs averaging between 3.8 and 4.2 wolves.
This winter new packs were detected in Bayfield, Douglas, Vilas, Oneida, Polk and Marinette counties in northern Wisconsin, while new packs also were found farther south in Marathon, Portage, Clark, Waupaca, Marquette and Adams counties. 
Additional wolves also have made their way west into St. Croix and Chippewa counties, south to Shawano, Outagamie, Brown, Kewaunee and Columbia counties, and to far southwestern Grant County.
Hunting
The U.S. Fish & Wildlife service has removed Wisconsin wolves from the endangered species list in 2007, 2009 and 2011. 
In April 2012, Gov. Scott Walker signed Act 169 into law, authorizing the state's first wolf hunting and trapping season. The DNR stated the goals were to reduce the Wisconsin wolf population with the ultimate goal of maintaining a sustainable population with fewer conflicts.
MacFarland said during the three wolf hunting seasons between 2012-2014, the population never dropped below the approved 350 threshold. In spring 2012, the estimated wolf population was 815. In 2015, that number fell to 746.
Their delisting from the ESA lasted for only three years, until Dec. 19, 2014, when U.S. District Judge Beryl Howell in Washington, D.C., in response to a lawsuit filed by the Humane Society of the United States, ordered that wolves in Wisconsin, Michigan and Minnesota be placed back on the endangered species list.
Wolves currently remain listed under the ESA and management authority is held by the Federal government. Federal listing status restricts state management, including any lethal wolf management tools. Currently, DNR staff  must use non-lethal abatement in response to wolf conflicts.
Predation
Grey wolves are impacting Wisconsin's economy but not in a way most would like to see. Wolves are not generating dollars from hunters or tourists as regularly occurs with many of the other species of wild birds and animals that inhabit the state. 
Instead, the DNR will likely pay out more than $200,000 this year in compensation to owners of livestock and other domestic animals killed by wolves. So far this year, payments have totaled $196,397. From 1985 to mid-2017, damage payments have totaled $2,275,616.
Between Jan. 1 and June 2, 2017, there have been 13 confirmed or probable wolf kills of cattle and four sheep, which have occurred in Portage, Douglas, Taylor, Price, Rusk, Burnett, Dunn and Marathon counties. Confirmed wolf harassment of 125 beef calves occurred during February in Douglas County.
At a meeting of the Wisconsin Conservation Congress Wolf Committee, members were told that, for now, paying the owners for lost or missing animals is about all that legally can be done since a federal judge placed the wolves back on the Endangered Species List.  
New delisting efforts
Several lawsuits have been filed to again removed wolves in Wisconsin, Michigan and Minnesota from the Endangered Species List. However, many believe the best way to delist the animals and keep the issue out of the courts is through Congressional action.
Earlier this year, Wisconsin's Republican senator Ron Johnson and Democrat Tammy Baldwin came together on the issue of removing federal protections for the gray wolf.
Johnson and Baldwin joined Sen. Amy Klobuchar (D-Minn.) and Sen. John Barrasso (R-Wyo.) to introduce legislation that would remove protections for the gray wolf in Wisconsin, Minnesota, Michigan and Wyoming under the federal Endangered Species Act.
The bill would replace federal protections with state wolf management plans, and includes language that says the action can't be subject to review by the courts. Republican U.S Rep. Sean Duffy, who represents northern Wisconsin, has sponsored legislation that mirrors the Senate bill.
Sen. Tom Tiffany (R - Hazelhurst), who represents citizens in Senate District 12 that encompasses counties in north central and northeast Wisconsin, says the state's expanding wolf packs are posing a serious threat to livestock.
"Wolves are having a really harmful effect on farmers in northern Wisconsin, and that is steadily moving south. We're seeing wolf damage to dairy farmers in Shawano County, and we've seen sheep farmers around Wisconsin Rapids get hit by wolves," he said.
"Control measures need to be put in place, and the sooner Congress delists, the better," Tiffany asserted.
State farm organizations, including the Wisconsin Farm Bureau Federation and FarmFirst Dairy Cooperative, which has members in Wisconsin, Michigan and Minnesota, also support returning authority for wolf management to the states.