Shopko's bankruptcy left more than 300 stores vacant. More and more are being turned to new uses.
PLOVER - Where can you grab a coffee, enjoy some beer brewed on-site, get your hair done, do some shopping, workout, and focus on mental, physical, spiritual and emotional health all at the same place?
Shopko in Plover, of course. Well, the former Shopko building in Plover, now known as Artist & Fare. 
Shoppers once entered the building to say hello to a good buy. Now they say hello to a good beer from O'so Brewing or to pick up treats from a specialty market. 
The renovation of the old department store is a work in progress, but tenants that have moved in since last spring include O'so Brewing, Mission Coffee, Anytime Fitness, Avant Hair Lounge, a home décor store called Division + Brawley and a social wellness club called The Garden Wellness. There are more businesses on deck to open or relocate inside, as well, including an ax-throwing company called Section 715 and a restaurant. There's also a common area where people can hang out or work using complimentary Wi-Fi.
Artist & Fare represents one of the more creative reuses of the 360-plus stores that were left vacant by Shopko's March 2019 bankruptcy. The store shutdowns that June created voids that many communities still are struggling to fill. In some cases small, Midwest communities lost the only pharmacy or general merchandise store for miles. Longtime workers found new jobs and fought for years for promised severance payments. Municipalities added another parking lot and big-box to an inventory of vacant spaces following an onslaught of retail bankruptcies. 
It can be a challenge to fill 50,000 to 100,000 square feet of vacant, retail space in any retail environment. The coronavirus pandemic's arrival less than a year after stores closed did not help. A growing number of former Shopko buildings are finding new life with new owners and new tenants, yet many remain vacant with little sign of pending revival. 
Partnerships between property owners and communities – like what happened at Artist & Fare – are crucial in successfully finding new uses for these large spaces.
Adam Benosky is a managing partner at Bohler, a Pennsylvania-based company that works with building owners and developers to identify opportunities and find new solutions for empty malls and big-box retail stores throughout the east coast and Texas.
He said it's crucial for city officials to think beyond trying to fill the vacant stores with another big-box retailer. While it's common to want to replace retail with retail, he said, cities need to be adaptable and willing to get creative and consider new projects that will create spaces for people to live, work and play.
"One of the biggest hurdles is trying to pitch the ideas with local authorities and try to get them to think outside the box," he said. "Sometimes, it's a tough sell."
That can look different depending on the city. Benosky said each community should do a marketing analysis to determine what the demand is like in the area and which community needs are not being met. Some areas might turn to entertainment or grocery store chains. Other communities might need more housing at a location that's easily accessible.
Cities and villages don't own the properties, so planners can only wait and respond to inquiries for information. But in the meantime, Benosky said, community leaders can be open to rezoning the property and get creative with tax incentives to help facilitate growth and attract more options.
RELATED:Nearly 3 years after Shopko closed, the Wausau VA Clinic is breathing new life into the vacant building in Rothschild
RELATED:Big Lots opens in former Shopko in Fond du Lac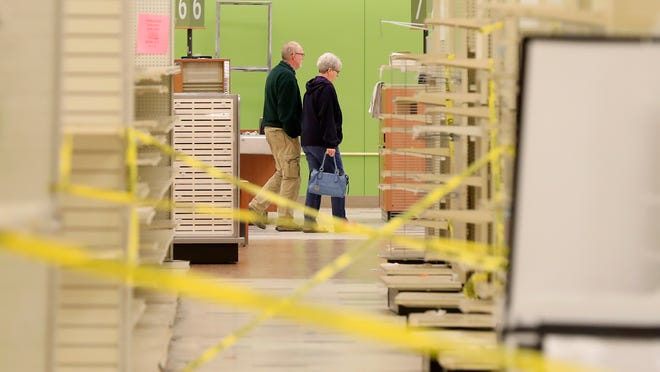 Many factors lead to a mix of outcomes
While they all look pretty much the same from the outside, each former Shopko location's redevelopment prospects depend on several factors, said Garritt Bader, a Green Bay-based retail developer with experience in a variety of retail development and reuse, including the former East Town mall in Green Bay: 
Individual building owners may have paid more than current market prices, leaving a gap between the rents they want and what tenants are willing to pay.
Shopko for a time focused on opening in smaller communities competitors passed up, meaning fewer chains are interested in stepping in to fill the void.
The interior spaces often need either buildout or demolition
The building is in a non-traditional big-box location, like on the edge of downtown rather than in a higher-traffic area.
Bader said consumers don't always realize these challenges exist; they just see the "four-sided box."
"In general with the Shopkos, it's the different owners and the prices at which those owners acquired the properties," Bader said. "Just because one hasn't found a new use doesn't mean it's not attractive. It just means current ownership wants something more than the market will offer right now."
Those unique challenges have sent the former Shopko buildings down divergent paths in the last three years. 
The Plover Shopko teems with local businesses while De Pere's store sits vacant and Kimberly's is up for auction (starting bid: $400,000). Rothschild's Shopko will be become a VA clinic, and Ashwaubenon's store, once an anchor in the Bay Park Square mall, is being converted to a Hy-Vee grocery store. Tractor Supply moved into former Shopkos in Oconto and Kewaunee, Ace Hardware renovated a store in Kiel, and two national chains split the Sheboygan Shopko.
In Appleton, a former Shopko Express store was reborn as X-Golf, an indoor golf facility, and in Buchanan another Shopko Express is now a veterinary clinic. 
Redeveloping these existing big-box buildings into grocery stores and hardware stores saves developers money and time. Benosky said it takes a long time to get new steel, and many developers are choosing to renovate an existing structure to save money. That way, they already have a roof, foundation, concrete, utilities, zoning and parking, and they can focus on the interior, get approvals faster and open more quickly. The demand to acquire existing big-box stores for remodeling has been higher in more urban areas, Benosky said.
However, smaller communities are seeing a lower demand for these bigger projects and are instead turning toward self storage and warehouse space. Benosky said a plan to use the back portions of the buildings for self storage and offer the front facade for retail can be a good option for those smaller communities.
Parts of former Shopkos in Oshkosh, Marshfield, Wausau and Suamico have done just that, converting their spaces to indoor, climate-controlled storage. In Oshkosh, though, the city only agreed to the storage conversion if the building's owners also developed the excess space in the property's parking lot within three years. Plans for a Chili's were approved in February. Farther afield, the Flandreau Santee Sioux Tribe plans to convert the Mitchell, South Dakota Shopko into a space to grow marijuana.
Other sites have signed up temporary and seasonal tenants like Spirit Halloween, which secures short-term leases for vacant spaces each fall. The Halloween store leases vacant buildings from mid-July through mid-November to operate a costume and supplies store from Sept. 1 through Nov. 1 and has used a few Shopko properties over the last couple of seasons.
Yet many locations remain vacant in spite of communities' best efforts and encouragement.
In De Pere, Dan Lindstrom, the city's director of development services, is still waiting for the right pitch to come along for his city's vacant Shopko.
Lindstrom noted communities don't own the buildings, so they have to wait and respond to inquiries. Those have come in, including developers asking the city to buy the building and give it to them, but none have gained traction thus far.
"We've seen the whole gamut of ideas come to us," Lindstrom said. 
He said city staff hope to see a viable redevelopment proposal by the end of the year. 
In Stevens Point, the city was hoping for a $15 million state grant to buy, demolish and redevelop the Main Street Shopko into housing, a transit center and new retail spaces. Now that city leaders learned they did not receive the grant, they're back to square one.
Small communities face bigger challenges
The pressure can be more acute in smaller cities like Wisconsin Rapids. Kyle Kearns, Wisconsin Rapids' director of community development, said there's little interest from national retailers in the East Riverview Expressway Shopko in the central Wisconsin city of 19,000 people. National chains often won't consider sites that don't meet population, traffic and income requirements, he said.
Kearns said a big hurdle has been the large, open interior space. Anyone who would invest in the property would likely need to put up partitions to divide the space.
"Big-box retailers exist, but it's not the same as it was in the '80s and '90s," Kearns said. "It's a different retail market."
Raider Hill Advisors, the building's owner, has tried to sell the building at auction a few times, but no sale has resulted. Kearns said Raider Hill has talked with the city about redevelopment options.
Most potential buyers talk about converting it to indoor storage, although the property is not zoned to allow for it. Kearns said that would be underusing both the building and the parking lot, and hopes a developer would consider a hybrid approach, like in Oshkosh, that would incorporate retail and storage.
Benosky said the large parking lots present opportunities for new construction. When a lot of the big-box stores were built, developers created parking lots with five parking spaces per 1,000 square feet of retail space. Now, Benosky said, most sites would likely need about half that parking space. Conversion of the buildings to self storage would need even less.
What happened at Shopko 1 in Green Bay?
Even when a building has owners who didn't overpay and are committed to reviving the space, it can still take years for best intentions to turn into retail reality. 
The first Shopko, at 216 S. Military Ave., opened on Green Bay's west side in 1963. Ed and David Martin, third- and fourth-generation owners of H.J. Martin & Son, bought the 125,000-square-foot building in March 2020 with a pledge to eventually revive retail use of the property, which is next door to the H.J. Martin's headquarters. In recent years, the family has successfully purchased and redeveloped other, nearby vacant big-boxes. 
There's been little retail interest in the site, but uses of a different type have emerged. H.J. Martin, a national installer of commercial interiors and retail fixtures, needed space to train more employees to keep up with its business growth. And a company sought space in the building to store and refurbish medical equipment.
Green Bay planners initially resisted that plan, saying too many temporary uses at other sites eventually became permanent, and that the store's location in a prime shopping district made it important to preserve retail operations. 
The two sides in fall reached a compromise: The industrial and training uses would be allowed for three to five years provided the Martins make progress on finding commercial and/or residential uses for the longer term. 
Those industrial uses for three to five years, the Martins said, would help generate income while they develop a more measured, planned approach to the long-term redevelopment of the Shopko property. 
"Our intent is to redevelop the building," David Martin said in September. "This is helping us get there. … We're going to do everything we can to bring the right tenants to that site."
RELATED:H.J. Martin, Green Bay develop short- and long-term plan to redevelop Military Avenue Shopko site
Creativity is key
The solution? Get creative.
Benosky said as trends change, developers and communities need to keep up with what people want and need. Historically, that meant shopping malls and big-box retail spaces. Now, while there's still a significant demand for retail, it's more focused on things shoppers can't buy online. People are looking for convenience stores and smaller grocery stores. They're looking for service-oriented retail more than big department stores that offer a wide variety of options in one place.
Bohler has worked with a lot of big-box stores and shopping malls, and has seen a lot of different reuses, Benosky said. Shopping malls and stores like Macy's, J.C. Penney and smaller Walmarts that were left vacant as Walmart built bigger stores have become movie theaters, grocery stores, indoor go-cart tracks and other entertainment facilities. Gyms are another option, as many would only need to move in equipment before opening.
Another solution is housing. Big-box stores were built in locations that are easy to access. Now, many of those places are desirable locations to live.
One solution Benosky came across was a developer who turned an old Walmart in Florida into a library, bringing down some ceiling heights and remodeling the facade.
Benosky said Bohler also has had success in creating mixed uses – like Artist & Fare – that combine retail, residential and brewery or restaurant spaces. 
Another attractive feature in big-box retail spaces is their height. Benosky said the ceiling heights in big-box spaces can make for some "really cool" second-story balcony and mezzanine opportunities, and he predicted more architects will use those opportunities as stores are redeveloped.
That's a feature already found inside Artist & Fare, where several tenants use the additional height to overlook the building's common area and expand their usable space.
A perfect pairing in Plover
Whether it's storage or a craft brewery, one constant does appear to emerge from reuses: The need for an anchor tenant.
Someone has to come in to not only carve up the space with an intent to use a significant portion of it, but also to provide the spark that's needed to reignite interest in the rest of the building.
Michael Masgay and Rolly Lokre bought the Plover building in 2020.Masgay owns a few restaurants in central Wisconsin, and he had worked on smaller development projects with Lokre in the past. With a large property like Shopko, it made sense for them to convert the vacant building into a mixed-use public market.
It's a formula that worked so well, they're doing it again. The partners purchased the nearby Younkers building at the end of 2021 and have similar plans for mixed commercial use. The project will "aesthetically be a continuation of Artist & Fare," Masgay said, with a couple of larger tenants that have not yet been named.
The biggest challenge for Artist & Fare – one that the other locations have had, as well – was using all of the interior space, especially the back rooms and storage spaces.
That's where O'so Brewing came in. Marc Buttera, the brewery owner, had been looking for a new space, and the brewery could use the back portions of the building for machinery and equipment to brew beer, as well as portions of the front, utilizing the curb appeal.
"If Marc wasn't involved, who knows if we would have been able to even do it," Masgay told USA TODAY NETWORK-Wisconsin in May.
Contact Caitlin Shuda at cshuda@gannett.com or follow her on Twitter @CaitlinShuda.
Contact Jeff Bollier at (920) 431-8387 or jbollier@gannett.com. Follow him on Twitter at @JeffBollier.